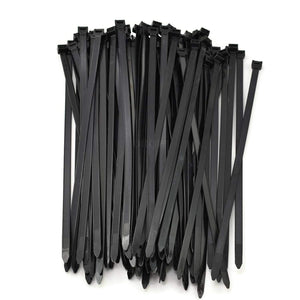 Multi-Purpose Strong Cable Ties 8 inch (Pack of 1000), 50 lbs, Black, Self Locking Zip TIes (10 packs of 100) 1000 Total
Strong Multi-Purpose Cable Ties - for electrical cables, home, office, garage, workshop and more

1000 pack: black ties, 8-inch length - Great Value

Made of weather resistant material and outdoor direct sunlight application is not an issue. withstanding temperatures from 0℉to 140℉, The...
$3298

$32.98

Save $7
---
Shop With Confidence
Over 2 million customers served!
365-Day Returns

Any Part

Fast Delivery

1.7 days on average!

Free Tech Support

On all purchased parts!
---
Strong Multi-Purpose Cable Ties - for electrical cables, home, office, garage, workshop and more

1000 pack: black ties, 8-inch length - Great Value

Made of weather resistant material and outdoor direct sunlight application is not an issue. withstanding temperatures from 0℉to 140℉, The UL Flammability is V-2

Strong flexible nylon material Industrial Grade 6/6 Nylon UL 62275

Resealable Bag, Lifetime guarantee on our premium zip ties.

UPC 

859388007190
---
×